Since the dawn of 1D time, a hefty portion of Directioners have been 3000% convinced that Louis Tomlinson and Harry Styles had/have (that's a whole other story) a romantic relationship. While we're not confirming nor denying the fact that Larry exists, (even though like, Harry JUST confirmed it) we thought it'd be fun to take a trip down Stylinson lane and bring up the ~mAgIcaL~ moments that truly made people believers…
1. Louis and Harry's backstage X Factor videos
During a BTS clip from the X Factor Days, Louis and Harry filmed a video to see who could unwrap the most gold coins the quickest… and this happened:
2. They have been known to wear each other's clothes
~sips from tea~
3. The ~cryptic~ Tweets
Back, long ago before Larry fanfic was taking over Watpads around the world, Louis and Harry ~freely~ had casual convos like this on Twitter...
Don't believe us? Here's an ancient artifact from 2011 that's managed to survive all these years:
4. Olive = Olivia
Some 1D theories suggest that the band's tune Olivia is actually a love song written by Harry for Louis. How on earth did they end up with that conclusion, you ask?
Back in 2011 Louis and Harry would tweet each other the word "Olive", which is also an acronym for "I love."
Irrelevant but also relevant, turns out Ed Sheeran was in on the whole joke:
5. The PDA
Back in the fetus days, Harry did a very cute interview with Sugarscape where he admitted that his celeb crush was none other than Louis Tomlinson... oh, and they've also admitted that they're each other's significant others.
6. #WELLINTON
Yep, we're talking about the Capital City of New Zealand. We're also talking about that time a fetus 1D were spotted and a rumoured ~Larry~ embrace was ~apparently~ caught on camera by some nearby fangirls. Make of it what you will…
7. The Wedding
To most, September 29th is just another day. To deep-as Larry shippers, it's Louis and Harry's wedding anniversary.
On that day back in 2013 a series of peculiar tweets went out and the fangirls speculated that their favourite couple had secretly tied to knot:
8. The jealousy
We're just gonna leave this one here for you...
Credit: Youtube/freddieismyqueen
9. That time Louis counted on Harry's fingers
And Harry made the cutest face we've ever seen in the history of time:
10. That time they unintentionally mimicked eachother's dance moves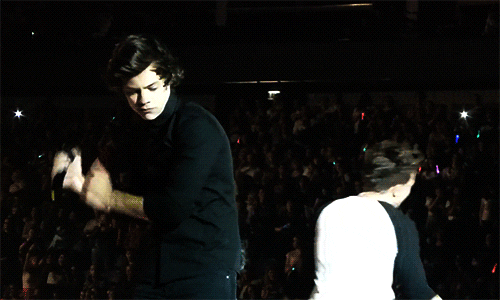 11. The Chicken parmigiana
Back around 2011/2012 the boys would often be asked the details of their best date ever. Long story short; Louis would often tell a very detailed story involving his first time cooking chicken parmigiana wrapped in mozzarella and ham.
licks lips
Funnily enough, here's a photo posted by Harry…
12. The ~glances~
So many lovingly looks, so little time:
13. RBB
Or in other words, Rainbow Bondage Bear; an ~out&proud~ teddy bear with a liking for leather and aviators that sporadically pops up at 1D concerts with ~interesting~ props...
Like that time he was sitting with a photo of this guy:
Fans eventually worked out that it was British closeted TV personality Larry Grayson.#BlessThisFandom
14. THE HUG
Whether or not Larry is real, there's no denying the fact the Louis and Harry's final hug before the hiatus brought you to tears:
What are your thoughts? Let us know! XOXO