It's no secret that the Kardashians don't have the best relationship with Rob's fiancé and baby mama, Blac Chyna.
They've had many a public feud about the most random and petty of things, but their latest argument is a MAJOR legal issue.
As Chy and Rob are set to tie the knot, Blac Chyna ("Angela Renée White") put in a request to change her name to "Angela Renée Kardashian" for business purposes.
When the Kardashian kamp found out about this, they were not about it. AT ALL.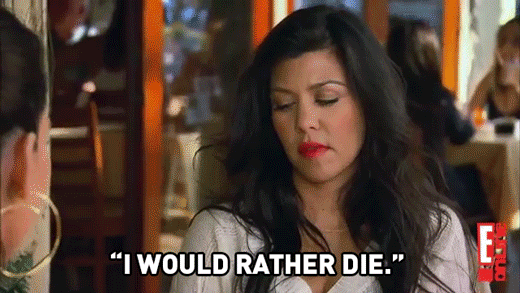 A source told PEOPLE: "The Kardashians own their trademarks in most categories worldwide, and the trademark attorneys' standard practice is to oppose anyone who tries to file anything. They probably didn't even know it was happening."
The sisters' peeps fear that they will "suffer damage including irreparable injury to their reputation and goodwill" if Chy is allowed to use their name.
OUCH! What a major slap in Blac Chyna's face.
The documents also state that she is "deliberately seeking to profit from the goodwill and popularity" by taking on the fam name.
But a source close to Chyna has backed up her intentions, saying that she means no harm whatsoever and just wants to be closer to the fam that she's marrying into.
"She's not trying to do anything negative," the source claims. "She wants to trademark the name because it will be her name when she gets married and she wants to protect it. It's also her daughter's last name and she wants to share a last name with her daughter."
Quite the sticky sitch, and it sounds like the Kardashian Klan won't be backing down any time soon.