A few years ago, Zendaya and Bella Thorne were just two little girls living their dreams on Disney Channel's Shake It Up. They pretty much did EVERYTHING together.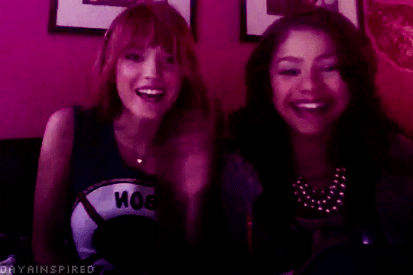 It's been three years since the show ended and like most TV friendships, the two girls started to hang out less and focus on their own careers, as you would.
But is it all ~good~ vibes between the two babes?
YAS!
In a recent interview with Seventeen, Z opens up about her friendship with Bella who she STILL hangs out with, fyi.
"We'll post things to each other on social media, but we know everybody's looking at that, so if she wants to talk, she'll call me or text me."
Z also addressed the criticism she's received about being the first ever black Mary Jane in the upcoming Spider-Man movie: "That fear of not being as good as you want to be can limit you from doing things."
"I feel a lot of people doubt me in the acting space because I've never done a big movie, and that's why I'm excited about doing Spider-Man —I have no preconceived notions about how I'm supposed to deal with it. But I auditioned just like everybody else, and clearly I did something right."
That you DID, Queen!