Kim Kardashian is back guys! REJOICE!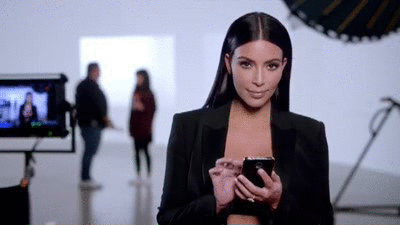 For three months social media was Kimmy K free, and TBH it just didn't feel right. She is the queen of the internet, remember?
So, now that she's back and in good shape, she's gone back to doing what she does best... shading her lil' sister Kylie. LEL.
Kim was trying out some Snapchat filters over the weekend, as well as sporting a fake lip piercing. She decided to use the filter that distorts you face to look like you have MEGA BIG lips... sitting next to Kylie, she begins with, *"So do you guys like my lip ring?" she laughs.
Putting the camera then on Kylie, she says, "Why do you look normal?" Kylie responds, "I look normal?!"...
"Yeah, that's how you look," Kim replies. LOOOL, the shade is real. Kim is obvi pointing out that Kylie has had lip injections before, and even though it was a sore topic with the sisters before... it's pretty LOL-worthy now that Kylie has come clean about it.
WELCOME BACK TO SOCIAL MEDIA, QUEEN. Don't let ya little sister take the crown off you.