Naya Rivera has written a book.
Annnnnnnnd Glee's sassiest cheerleader is NOT holding back ANYTHING. Dodgy BFs, failed marriages, on-set feuds, you name it...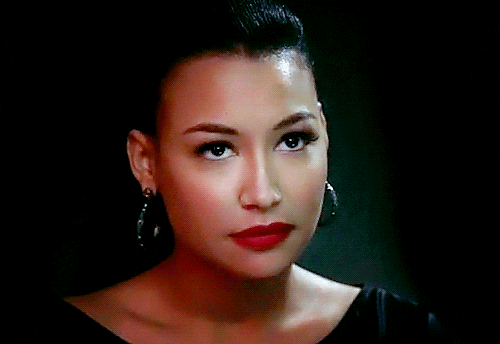 1. She had an eating disorder as a teenager.
Naya wrote, "I just avoided food at all costs."
2. Disney Channel actor Tahj Mowry was her first kiss!
He was her BF all throughout school.
3. She was a ~bad girl~ in school.
Naya revealed that a girl once pulled her hair, so she bit her on the arm. On another occasion, a teacher caught her passing notes in class about another student.
4. Naya revealed she got breast implants when she was still in school.
And totally didn't care that her peers and teachers knew.
5. Naya was ~THISCLOSE~ to being cast as Gabrielle in 'High School Musical'
She also missed out on roles in The Cheetah Girls and Bratz.
6. Kissing Heather Morris (Brittany) in Glee wasn't as easy as it looked.
Naya said:"Hookup scenes with Heather could also get pretty uncomfortable... especially when we were supposed to be in Love with a capital L."
7. She had to keep her relationship with Mark Salling a secret.
Mark's representatives thought it was better for his ~image~ if he was single, even though he was dating Naya for THREE years!
8. And she DIDN'T key his car.
Contrary to the popular rumour a few years back, Naya denies keying his car when he was cheating on her. She did however admit that he WAS cheating on her and had another way of punishing him. "[I] bought dog food, Coca-Cola, eggs, and bird seed, and then dumped all that [CENSORED] all over his car."
9. She DID kiss Corey Montieth.
But it was just once. Naya explains, "Minus that one incident of kissing, Cory and I had a very brotherly/sisterly relationship."
10. Big Sean told the world his wedding was over…BEFORE HE TOLD NAYA.
The rapper never actually told Naya he was ending their relationship and instead got his publicist to make an announcement. A few weeks later her was dating Ariana. Not cool at all.
11. Naya and Lea Michele DID NOT get along.
All that ~tension~ between Rachel and Santana was 3000% real and got quite vicious. Naya reveals that Lea apparently leaked false information that she was fired to the press. Um, WOT?!
And this is only a SNIPPET of what will be revealed.
Check out Naya's book Sorry Not Sorry: Dreams, Mistakes, and Growing Up HERE