Clearly still sporting her classic "don't give a damn," attitude after all these years, the socialite, DJ and entrepreneur has revealed that she totally voted for Donald Trump.
Yep, we're serious.
While appearing on The Project during her recent trip to Australia to promote her latest fragrance, Paris was bombarded with all the political Q's, as you'd imagine.
But unlike most celebs who were 3,000% With Her, Paris casually admitted that she was ready for America to be hot again: "I've known him since I'm [sic] a little girl," Paris explained, adding, "So yes."
Turns out, Paris and Donald really do go way back. In her 2004 book Confessions of an Heiress Donald gave Paris a praising quote on the back cover, and it seems the two have been low-key besties after all these years.
"It's pretty amazing," she said. "I've known him my entire life and he's always been incredibly supportive of me, so I'm very proud to have that on my book."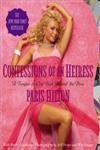 Yep, Paris is Donald AF and doesn't give a damn what anyone thinks.
We guess she gets points for honesty?