If you've ever been lucky enough to see Selena Gomez live in concert, first of all CONGRATULATIONS, second of all, we imagine that this would literally have been you in the audience…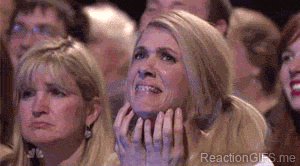 As it turns out, us mere mortals aren't the only ones that fan girl at concerts, turns out a kween like Selena Gomez is guilty of this as well as she was spotted in the crowd of The Weeknd's show in Germany.
The singer is currently enjoying her second vacay with her bae, The Weeknd as he joins Drake on tour in Europe.
Selena tagged along to spend time with Abel while he's working abroad and just couldn't resist rocking up to his shows to cheer him on.
Sel was video recorded while taking a photo with a fan in the crowd and she legit couldn't look happier!
Now THAT'S true love!
A close source to the pair recently revealed that Abelena deal with being apart by maintaining constant cyber contact.
"They do it all, text, call and send pictures and video chat. They do the whole thing. They are always a moment away from each other and they make it very easy to get a hold of one another," the source tells HollywoodLife.com.
"Trust is paramount to Selena and she has zero negative thoughts on anything weird happening. She has complete trust in him because she wants him to feel the same way about her," the source continued.
Well, it looks like the distance just became way too much for Sel as she couldn't resist flying over to Europe to be with her man.