Although there have been former Disney Channel stars in the past who have dissed the network after moving on (Miley Cyrus, Joe Jonas and Demi Lovato – to name a few), one particularly iconic Disney darling recalls those years as the happiest of her life. Yep, we're talkin' Selena Gomez.
In a recent interview, Sel opened up about why her life was so much more joyful during her Wizards of Waverly Place days – and it has to do with social media.
"When I was on Wizards of Waverly Place, we didn't have social media really. Twitter had just begun. Every Friday, I'd get to do a live taping in front of all these little kids and make their life. That's when I was the happiest. Then, as I got older, I watched it go from zero to a hundred," Selena said, reminiscing back on her Instagram-less days as a teen.
As the most followed person on Instagram with over 100 million followers, Selena has been vocal about her personal struggles with social media. She even made it a point in her American Music Awards acceptance speech to encourage others to focus on what's inside, rather than worry about what you look like on Instagram.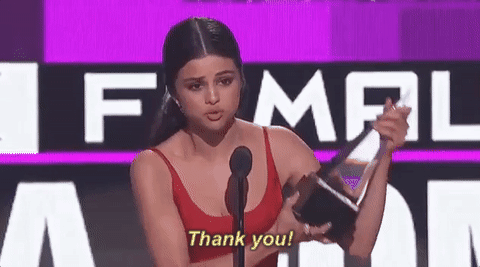 Although Selena struggles with the pressures that come with being one of the most famous public figures in the world, she makes it a point to unplug quite often in order to keep herself sane.
"You can't avoid it sometimes. I delete the app from my phone at least once a week. You fixate on the [negative] ones. They're not like, 'You're ugly.' It's like they want to cut to your soul," she explained. "Imagine all the insecurities that you already feel about yourself and having someone write a paragraph pointing out every little thing — even if it's just physical."
We think it's safe to say peak Disney Selena is the core of who she is. The proof is in her teary eyes when she recently watched a fan's cover of "Kill Em With Kindness." If one thing is for sure, we know that no matter what, Selena always remembers where she came from.