This just in horror lovers – our lord and saviour, Ryan Murphy has dropped some more deets on the highly anticipated American Horror Story crossover season that we've all been waiting for.
As we already know, the supersized season won't be happening "anytime soon", but in a recent interview with Entertainment Weekly, Murphy gave us a lil taste of what to expect.
"It's a character from season 1 that will be thrust into the world that you are left with at the end of Coven, which is sort of like the male/female/witch academy," Murphy explains. "And then all of those characters will intertwine, which is confusing because some of them are from seasons 1 and 3. Like, Sarah Paulson will probably be playing 18 characters."
No. Freaking. Way!
If you guys are die-hard Coven fans like us at DOLLY HQ, you would have, excuse the pun, DIED over the news that the witches will be returning to the series in future seasons.
And it looks like not only will our fave spellbinding gals appear in the season, but the whole thing will actually be set in the ~infamous~ Miss Robichaux's Academy in New Orleans.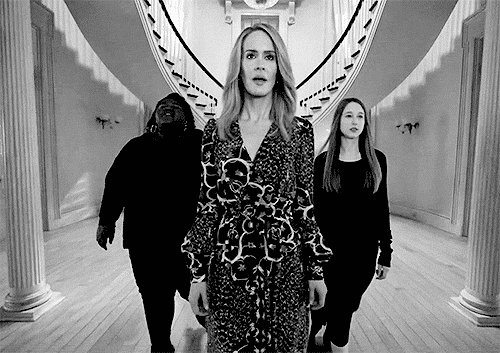 The "world that you are left with at the end of 'Coven'" obvs refers to Cordelia becoming headmistress of the academy with Zoe and Queenie as her council members.
But those who watched Hotel will know that Queenie (AKA the "human voodoo doll") was murdered by Evan Peters' ghostly character while she was visiting the deadly establishment, Hotel Cortez.
So it'll be interesting to see how they pick up from this in the upcoming crossover season!
We're also keen AF to see which Murder House character is, well, a witch!
It looks like there are many more surprises to be revealed.