It's no ground-breaking news that what we nosh affects our body, but did you know your diet can have a major impact on your complexion, too? According to Sydney-based naturalist and founder of The Beauty Chef, Carla Oates, beauty begins in your belly.
"The skin is one of the last places to receive nutrients, so if you're not getting enough nutrition, it will starve," Carla explains.
So what are you waiting for? Eat your way to a gorj glow this these nine foods...
1. SALMON.
Skin irritation got you down? Just add some salmon to your plate! "Salmon is jam-packed with omega-3 fatty acids, which help soothe acne and dermatitis, keeping skin cells strong and resilient, and allow for the delivery of nutrients," says Carla.
The good stuff doesn't end there; salmon also boasts the antioxidant astaxanthin, which defends your collagen network and offers UV protection.
2. POMEGRANATE.
This antioxidant-rich fruit is a lifesaver for those with acne and irritable skin. "Pomegranate hydrates skin cells, acts as an anti-inflammatory and protects cells from stress," says Carla. It is also known to contain an antioxidant that helps your skin stay healthy.
Filled with vitamin C, pomegranates not only help fight acne, they also tone down any pigmentation left behind as well.
3. ALMONDS.
If it's clear skin you're after, sprinkle a handful of almonds over your brekkie and absorb the softening benefits of vitamin E. "An antioxidant that helps nourish and protect the skin, vitamin E also helps enhance our immune function, which boosts the body's defence against inflammation," dietitian Caitlin Reid says.
Snack on these tasty treats and you'll be left with a smooth, dewy complexion.
4. APRICOTS.
Want skin as smooth as a Shawn Mendes ballad? Try upping your apricot intake, says Caitlin. "Apricots are rich in the carotenoid betacorotene, which enhances the skin's ability to protect itself against harmful UV rays," says Caitlin. "This reduces your risk of sunburn." That doesn't mean you can skip the SPF though! Apricots are also full of skin-smoothing vitamin A.
5. AVOCADO.
The humble avocado is a superhero when it comes to keeping your skin in prime condition. Brimming with vitamins A, C, E and oleic acid, avocados can improve skin tone and texture. "These nutrients will maintain moisture levels and regenerate damaged cells," says Carla. "A great source of fibre, avocado also works as a skin clarifier - it really is the ultimate food for perfect skin!"
6. SWEET POTATO.
"Famous for its betacorotene, sweet potato is also a great source of the antioxidant vitamin C - a champ at reducing the skin-damaging effects of the sun and pollution," says Caitlin. These environmental nasties destroy collagen and elastin, which help your skin to stay looking radiant and healthy. We'll have an extra serving of sweet potato fries then, plz!
7. CHOCOLATE.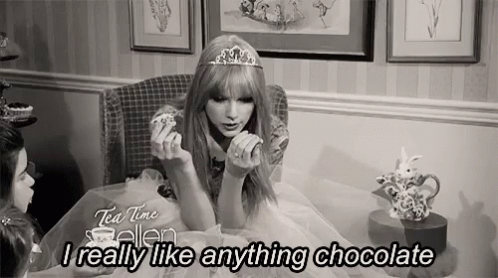 Nope, that's not a typo, it's just the best news you've heard all week! But before you reach for that block of milk chocolate, make sure it's the dark kind with at least 70% cocoa.
"Dark chocolate is full of flavonols, which have been found to reduce the roughness of skin," says Caitlin. Flavonols also help protect and boost blood flow, so you'll score a radiant complexion without the makeup kit.
8. CHICKPEAS.
Throw some chickpeas into your salad and combat scarring and dark spots with a protein hit. "The body uses protein to keep the skin healthy by replenishing cells as they die," explains Caitlin.
A lack of protein stunts the production of collagen and elastin (which causes the skin to look less than glowing), so eat your chickpeas if you're after skin so soft even Selena would be jealous.
9. BRAZIL NUTS.
Welcome Brazil nuts into your life! According to Carla: "These nuts are a great source of the nutrient selenium, which studies show helps to protect your skin against free-radical damage triggered by UV stress." Add just two of these bad boys to your daily diet and it could help your sun spots and pigmentation to fade. You will still need to wear sunscreen though!